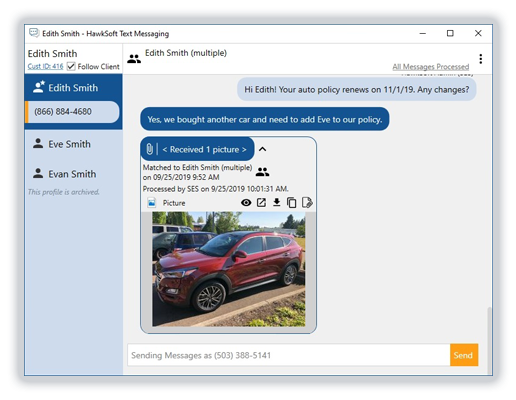 Integrated texting that meets federal requirements
$20/month with unlimited texts and users
Federal compliance comes built in
The TCPA, a law passed by the US Congress, mandates that your clients grant permission to receive texts from your agency. HawkSoft Text Messaging has built-in functionality that requests permission from your recipient to meet this requirement. HawkSoft sends one-click opt-in texts to insureds, automatically opts out clients who use the STOP keyword, and displays the opt-in status for each mobile number on a policy.
Already a HawkSoft customer?
Not a HawkSoft customer yet?
HawkSoftText Messaging is integrated into our system.
Schedule a demo of the full system to see it in action.
Integrated Texting
---
Open a texting window from within the client's file in HawkSoft. Conversations are saved in one place for future reference.
Automated Opt-in & Opt-out
---
Manage client consent requirements with automated opt-in, opt-out, and opt-in status capabilities.
Agency-Level Visibility
---
Conversations aren't confined to one person's phone. Multiple people can see text messages and easily pick up the conversation if someone is out of the office.
Desktop Notifications
---
Get desktop notifications only for the conversations that matter to you.
Choose Your Number
---
Text from your main agency phone number or choose one with your local area code.
Images & ID cards
---
Send ID cards via text, and receive images sent from clients. Drag & drop images to client files.
Eliminate Duplicate Work
---
Mark texts as processed once action is taken to clear them from the agency's queue. Filter your view to see only unprocessed texts.
Permanent Record
---
See a permanent, uneditable record of the client's entire text history.
Filter Conversations
---
Filter messages by client, conversations you follow, or unprocessed messages.
3 ways your agency can use texting
Alert clients about renewals, changes to coverage, or other policy updates
Send appointment reminders to keep your visit top-of-mind for clients
Receive images for claims, inventory, and more from clients via text