Tired of insurance accounting?
Introducing Insurance Accounting Automation
Give your staff the ability to focus their resources on their core competencies while offloading your agency's insurance accounting needs to a trusted partner.
Our certified professionals understand the interplay between insurance bookkeeping, agency management systems, and carriers. We are proficient with QuickBooks and have experience handling bookkeeping with many popular management systems (of course, we're experts with HawkSoft's system and can't help but to be biased). You do not need to be using HawkSoft as your management system to take advantage of our Managed Accounting service.
Changing how modern insurance agents handle bookkeeping
Managing my agency is so much easier with HawkSoft's managed accounting service. Crystal and her team help ensure our trust and operating accounting, direct bill commissions, and payroll are done correctly and on time. They review our monthly expenses and find creative ways to save money. Their team is part of our agency family, and we can't imagine doing our accounting without them.
Benefits of Managed Accounting

Improve Accuracy of Accounting
---
Improve the accuracy and timeliness of your accounting by taking advantage of proven processes and certified bookkeepers trained on insurance accounting.

Regain Valuable Time
---
By offloading accounting tasks you can refocus your time on high-impact activities like servicing policyholders, building meaningful relationships with your clients, community outreach, marketing, and sales.

Refocus Your Hiring
---
Refocus your agency's hiring on insurance talent (producers, CSRs, account managers) instead of back-office operations like bookkeeping and accounting.

Scale Your Resources
---
Grow your agency with no obligation to pay salaries or benefits
Choose Which Services
Managed Accounting can relieve you of one or all of these essential accounting tasks, giving you the peace of mind knowing your books are managed correctly and on time.
You can bundle services and choose only those that matter to you. There are no contracts, so you can cancel or change services at any time.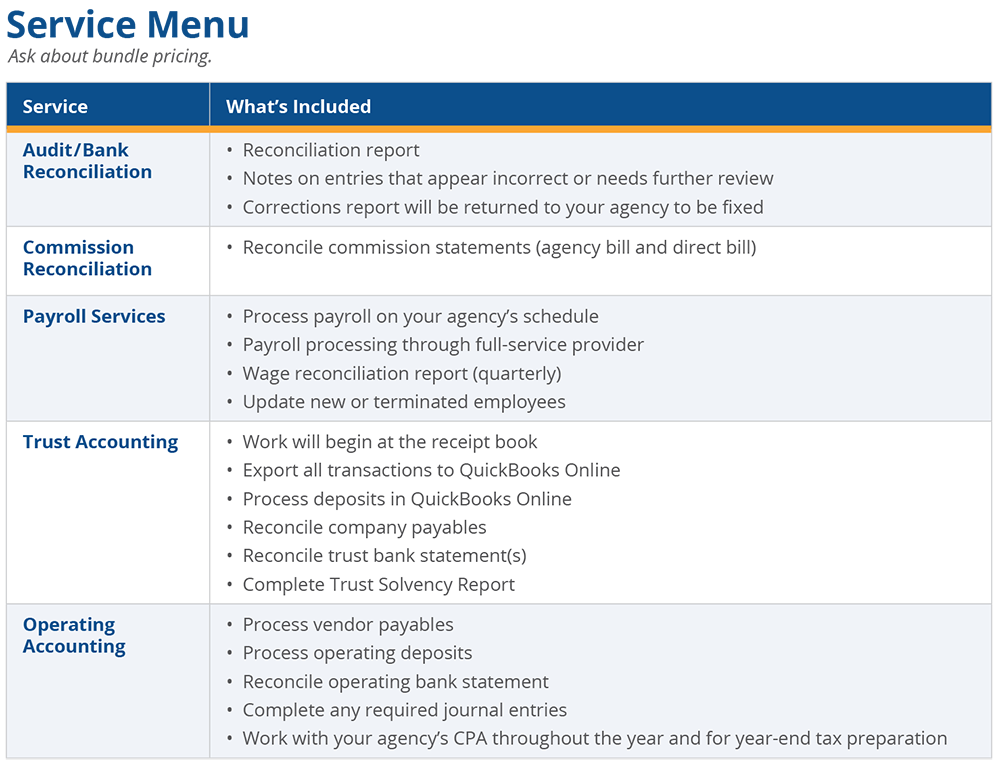 Yes! I want to learn more about HawkSoft Managed Accounting services.
Schedule a discovery call where we can learn more about your personalized accounting needs and prepare a custom quote. Scheduling this call secures your place in line if you choose to proceed with Managed Accounting Services. This does not obligate you to purchase the service from us.