Modernize your agency with self-service options for your policyholders
This feature will launch in February 2020
Put the power in the hands of your policyholders with Self-service Certificates. Publish Certificates of Insurance from HawkSoft to a secure web-based portal. Insureds can then select or add new certificate holders, generate certificates, and send them to the cert holder. Save time and work for both the agent and the insured, making the burdensome process seamless for everyone.

24/7 Access
---
Insureds generate certificates at any time and from any device or browser.

Cert Holder Flexibility
---
Insureds can select or add cert holders and email the certificate to them.

Save Time
---
Eliminate phone calls from the insured and time spent creating certificates for new holders.

No Login
---
No password to remember—insureds use their email address and a verification code.
Control Cert Access
---
Choose who receives access links. Revoke certificate from web portal at any time.

Unlimited Certificates
---
Flat $95 monthly fee per agency. No per-certificate fees.
The agent can:
Publish a certificate from HawkSoft to the web-based portal
Email a unique portal access link to the insured
Receive an email with the certificate whenever an insured generates a new one, and save it to the client file
Import cert holders added by the insured into HawkSoft
Revoke certificates from the web portal at any time
The insured can:
Access the web portal from any device
Search existing cert holders or add new ones
Download, print, or email certificates to holders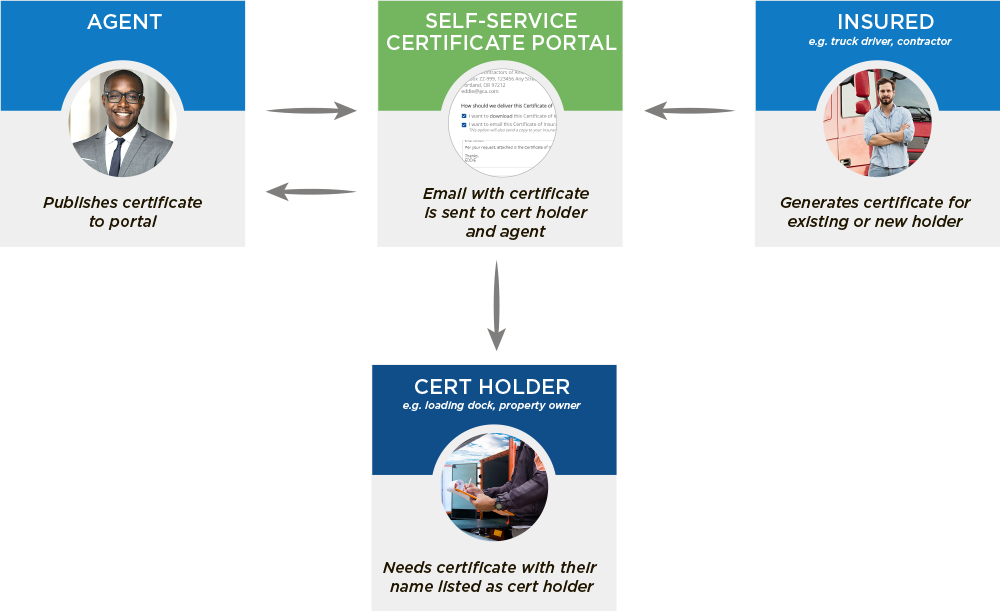 Our insureds love Self-service Certificates because they don't need a middle-man involved. The entire process is very efficient and automated. They have the freedom to access the portal themselves and get their certificates outside of our business hours, or on a Saturday. The most important thing is that it's convenient for the customer.
Read Amanda's full experience with Self-service Certificates

This feature will soon be available for purchase as an add-on to HawkSoft. Watch for an email from us!