A note from Sean Hawkins
---
On the evolution of HawkSoft
When my father (Paul Hawkins), brother-in-law (Jason Hansen), and I began HawkSoft in 1995, we never could have conceived of the technology we'd have available at our fingertips 26 years later. The software we created originally on DOS has evolved and changed over the decades along with the pace of innovation and the needs of independent agents.
Today, we're at another crucial turning point in HawkSoft's evolution: the shift from a software to a platform where data is housed entirely in the cloud. This is a monumental undertaking that requires HawkSoft to be rebuilt in a cloud environment. I often compare this project to rebuilding an airplane during flight without disrupting the passengers onboard.
Over the last several years we have been making incremental changes to HawkSoft to update the "plane" one piece at a time with features powered by HawkSoft Cloud, such as Agent Portal, the New Search experience, and Cloud Authentication. HawkSoft 6 will be the next step of this journey, marking the first version of HawkSoft to rely solely upon data stored in the cloud rather than on an agency's local server or a server at one of our online hosting partners.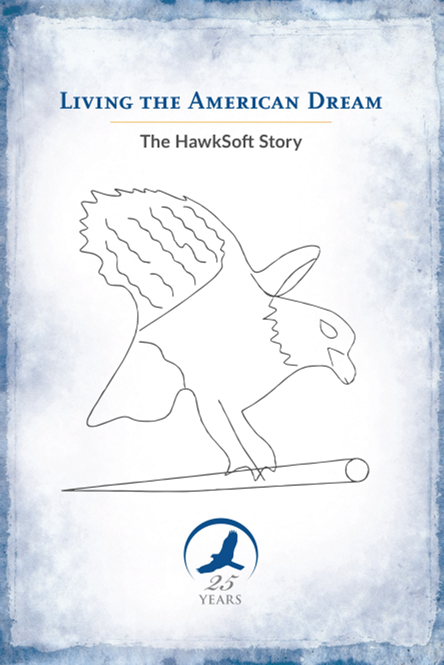 Cover from the 25th Anniversary Commemoration Book

The race to HawkSoft 6 is a marathon, not a sprint. It's important to us to be as transparent as possible with our customers about our progress on the journey toward a fully cloud-based HawkSoft. Our core values of Continuous Innovation, Delivering an Exceptional Experience, and Doing the Right Thing guide us to be honest with our customers about our successes as well as failures along the journey. Our HawkSoft 6 webpage will showcase our vision for this project, answer questions you may have, and clarify milestones along the path to our transition to a cloud platform. We'll update this page throughout the year so you can journey with us, help us celebrate our progress, and have insight into any obstacles along the way.

Thank you for standing by HawkSoft as we prepare it to serve the evolving needs of modern independent agents for the next 25 years!

Sean Hawkins
Co-founder and VP of Development
HawkSoft