Automated communications with HawkSoft+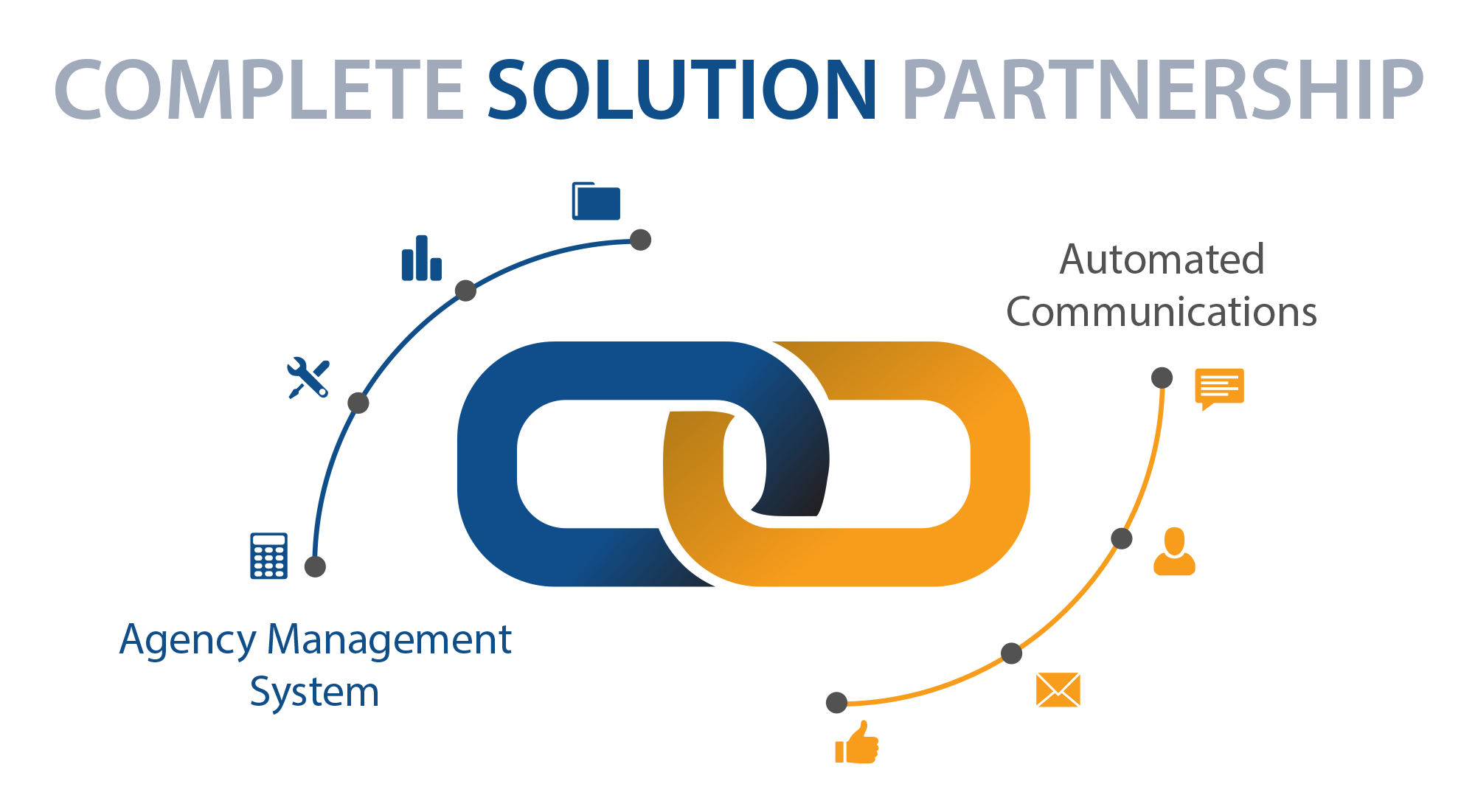 Your agency management system should be more than one of many disparate software tools in your agency's toolbox—it should be the center of a harmonious ecosystem of integrated technology. HawkSoft already has a robust offering of API and Solution Partners to help agencies build their technology stack, but now we're making it easier than ever to bundle complementary products with HawkSoft+.
HawkSoft+ offerings provide an even deeper level of partnership with third party systems, creating a seamless, unified experience with simplified billing and streamlined setup and support. Our first HawkSoft+ product is automated communications, providing comprehensive client communications, feedback, and review management features as part of the HawkSoft experience.
HawkSoft+ Rocket Referrals
HawkSoft and Rocket Referrals have always shared a unique point of view in the industry as family-owned, private businesses committed to bringing technology solutions to independent insurance agencies without relying on outside investors.
HawkSoft+ Rocket Referrals takes our partnership to the next level with a software bundle offering both systems on a single bill. This all-in-one solution delivers a complete policy management and automated communications solution, so your agency can get more done with less effort. Your staff can spend their workday in HawkSoft while the communications and follow-up task assignments happen automatically in the background through Rocket Referrals.
Unique advantages for your agency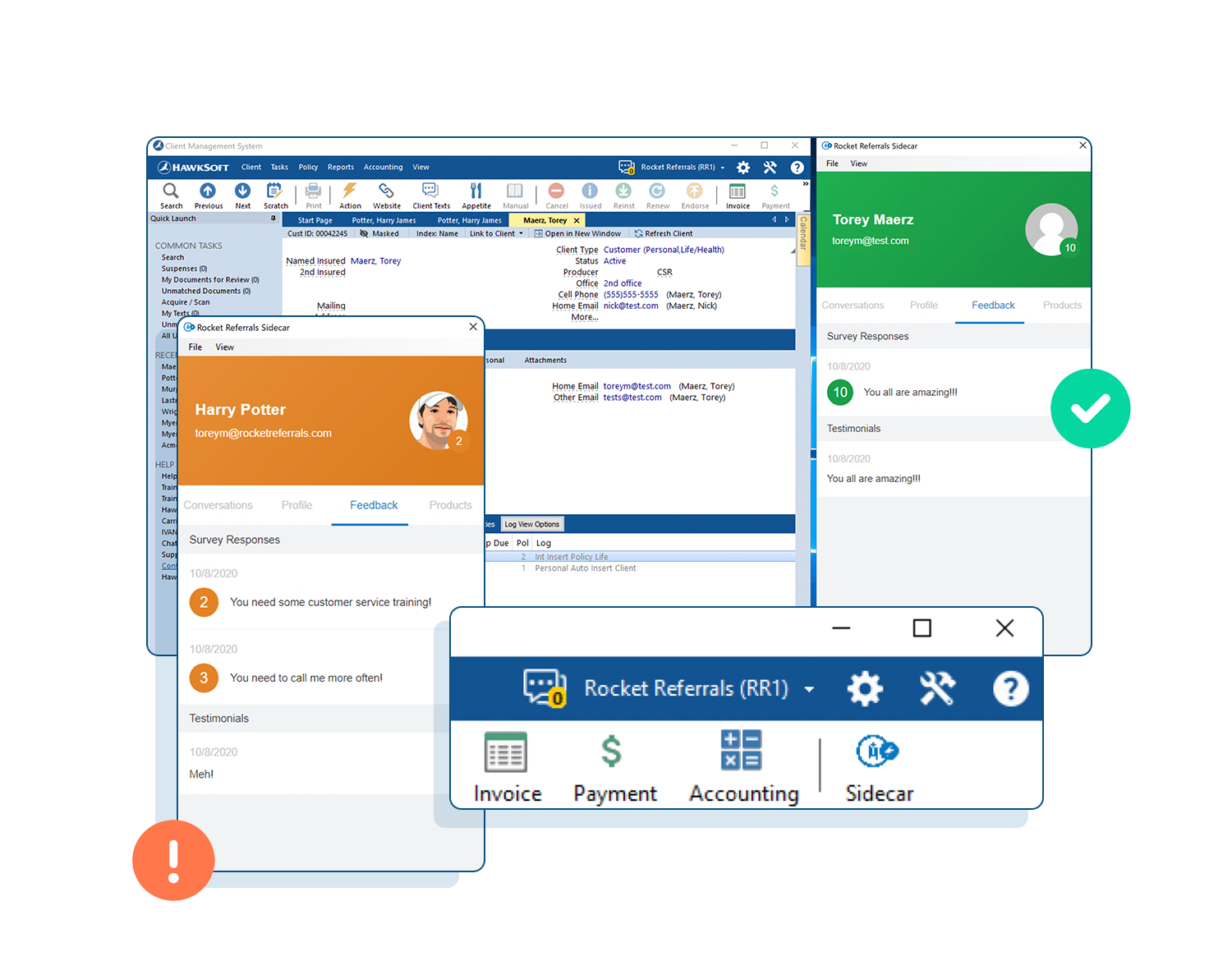 Use HawkSoft and Rocket Referrals on the same screen with Sidecar
Best-in-class integration
Robust two-way API integration adds HawkSoft data automatically into Rocket Referrals and facilitates convenient features like single sign-on and a customizable automated tasks tool that creates follow-up reminders in HawkSoft when communications are sent.
No switching between systems
Rocket Referrals' revolutionary Sidecar feature lets you use both systems on the same screen. Send communications and complete tasks without ever leaving HawkSoft.
Streamlined setup & support
HawkSoft and Rocket Referrals work together to make the onboarding process painless. Rocket Referrals comes pre-configured for HawkSoft with custom settings and templates. Both systems offer unparalleled training and support for customers.
Simplified billing
Take the hassle out of billing with one invoice from HawkSoft that includes the monthly base fee and per-user subscription for both systems.
See workflows in action
"Rocket Referrals and HawkSoft work so well together. When you're in a client file in HawkSoft, Sidecar provides a very easy way to send messages or see what communication has gone to the client. HawkSoft documents what Rocket Referrals sends out, and Rocket Referrals sets tasks in HawkSoft for our agents to follow up on. It's a lifesaver!"
Already a HawkSoft Customer?
Contact insidesales@hawksoft.com
More automation partners
Already using an automated communications platform that's not Rocket Referrals? No problem! While HawkSoft+ Rocket Referrals provides the most seamless experience accessing automated communications within HawkSoft, we support API integrations with many other fantastic automation partners—the choice is always up to you and what's best for your agency. Just let us know if you already have a client communication platform or if you'd like to see HawkSoft+ Rocket Referrals during your demo.